Many people are using hearing aids, who wish to be able to calibrate and set their devices just on their own. Current hearing aid systems offer many complex possibilities, even though users and audiologists barely tap the devices full potential. It is often also hard to immediately inform the audiologist which setting is best while calibrating the hearing aids in just a few minutes in his or her office. Thus, this instruction is going to give you a step-by-step guide on how (with the help of Phonak Audeo Smart) to regulate your device independently for more pleasant and active experience of hearing and experience many new versatile settings available
Why adjust hearing devices on your own?
The chance of having all different parameters set optimal in one shot is very rare – it needs experimentation
Appointments at the audiologist for every single change in the settings are otiose
Often it is hard to verbalize directly which settings need to be improved
Hearing devices offer many functions and parameters, but often – all not least due to a lack of time – all of them cannot be tested for the best combination
and also just in order to have a certain freedom to influence the personal hearing individually
Requirements
Digital hearing devices
PC running Windows XP at least (as far as we know, MAC does not run most important adjustment programs)
Calibrating software of the hearing aid system from producer (see links)
Interface, i. e. HiPro, NEOH, iCube, … (see links)
Basic knowledge in acoustics is not necessary but advantageous
Dangers of self-setting / self-fitting
If asking the audiologist, whether the devices can be adjusted by oneself, he or she often answers, that this is improper as the danger of injuring the sense of hearing is immense. However, have you also been told by your car salesman, that you may die if you drive to speedily? Every MP3-player that is set too loud can also damage ones ears and with it the sense of hearing. Therefore, changes should be done with common sense. Please also adhere to the following:
It takes time until the ear got used to a new acoustic situation. This may last up to 2 weeks, so please allow yourself some time and do not change teh settings too often
It is important not to set the advices to comfortable (meaning too modern). Keep in mind that you basically want to 'hear' with the hearing aids. All other sounds and noises will be adapted soon, too.
Do not change too many parameters at once. Everything needs its time and it may also cost up to one year until you have found the perfect settings for you. Please remain patient.
Programming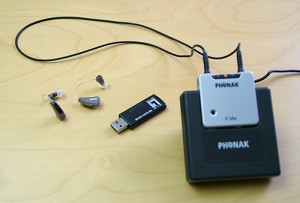 How does the actual change of settings take place? Please refer to this guide as to an example of how to set hearing devices using Phonak Audeo Smart. Current devices of Phoneak are well qualified for a self-setting as the interface iCube can be installed easily and the adjustment software is designed conveniently. I will not turn to any detail but describe the main procedure. Please just take some time and experiment with the software.
First of all, the software of iPFG needs to be downloaded and installed. You will find the download among the links. Because of the many audio examples in various languages included, the software is rather large. Of course, you may also download the software without the examples, however, in the end they turned out to be quite helpful for the adjustment.
After finishing the installation please start the software and set up a new account. You now need to establish the connection between hearing aids and your PC. This can be realized easily via a HiPRO-interface or via the iCube. (One of my audiologists was very helpful – he placed his interface to my disposal. Unfortunately, you may not purchase the iCube over-the-counter.) The adjustment using the iCube is very comfortable, as it is wireless and quick. The interface will be installed in the system settings of iPFG.
When the connection has been established, you may read-out the preset settings. It might be a good idea to take a screen-shot of it to ensure the ability of resetting – just in case.
If your hearing aids have already been preset by your audiologist, you may skip the next step: In case of having bought devices, for example in the U.S. for financial reasons, first of all, you need to create your audiogramme. This may be done by using the function AudiogrammDirect and the hearing aids themselves. Just go through every frequency by tapping the curser-keys respectively downwards and then tapping space bar. As soon as you hear a sound, click 'enter' and choose the next frequency. This needs to be done for both ears and also with the maximum volume UCL. Go as far as you find the tone displeasingly loud. Thereafter, you need to make modifications in the adjustment of the acoustic feedback. Take care to set the acoustic parameters correctly.


Now you may play a little with the software, adjust and change settings, both in the program and the device itself.
After having found your settings, transfer them to the devices and safe them in the database.
Now the calibration has been finished and all you have to do is testing, testing, testing …


Warning: I have once had the experience that I could not establish a connection via iCube after changing the settings anymore. The only possibility to access to the hearing aids then was to connect the devices via a configuration cable (hardware). This happened just once – still I want to point out the risk.
Whoever has got any proposals or incitements on the topic, please feel cordially invited to publish them under the section 'comments'.